Ground+Co's Training and Employment Program
At The Underground Collaborative and Ground+Co, we understand how important it is to know the impact your support is making to the organisation and our Team Members. We want to connect consumers to our cause, and demonstrate how their conscious choices are making a difference.
0
HOURS OF EMPLOYMENT FOR OUR TEAM MEMBERS OVER 2 YEARS
0
THOUSAND DOLLARS IN WAGES PAID TO OUR TEAM MEMBERS OVER 2 YEARS
0
TEAM MEMBERS HAVE PARTICIPATED IN OUR EMPLOYMENT PROGRAM
Empowerment is one of The Underground Collaborative's key objectives in seeking to improve the lives of those most marginalised. However, we are also passionate about educating our community and supporters – when we are educated, we too are filled with a deep sense of purpose.
To understand how you are making a difference and the way in which Ground+Co operates to support our Team Members, we hope the infographic below will provide some insight into this.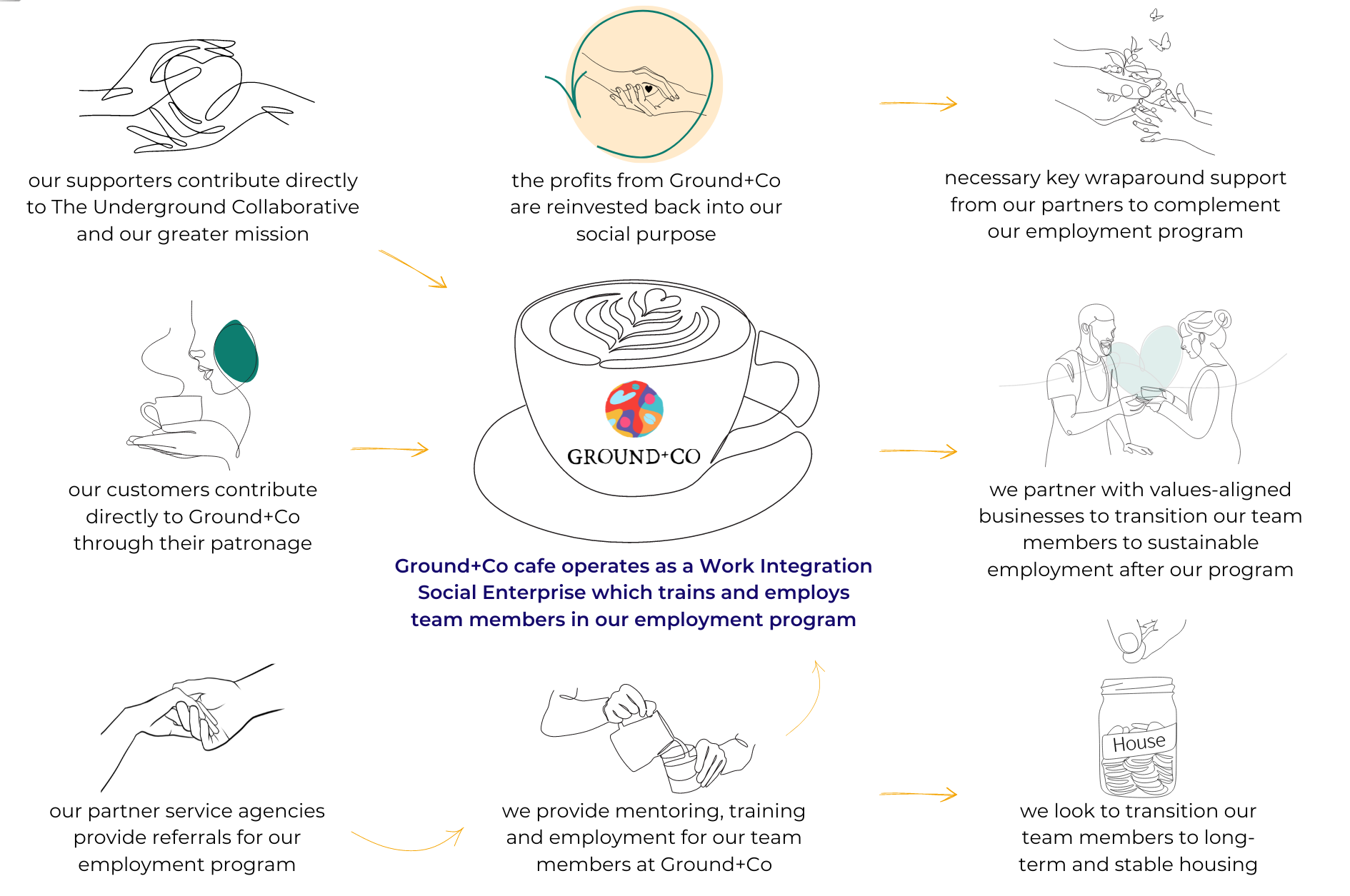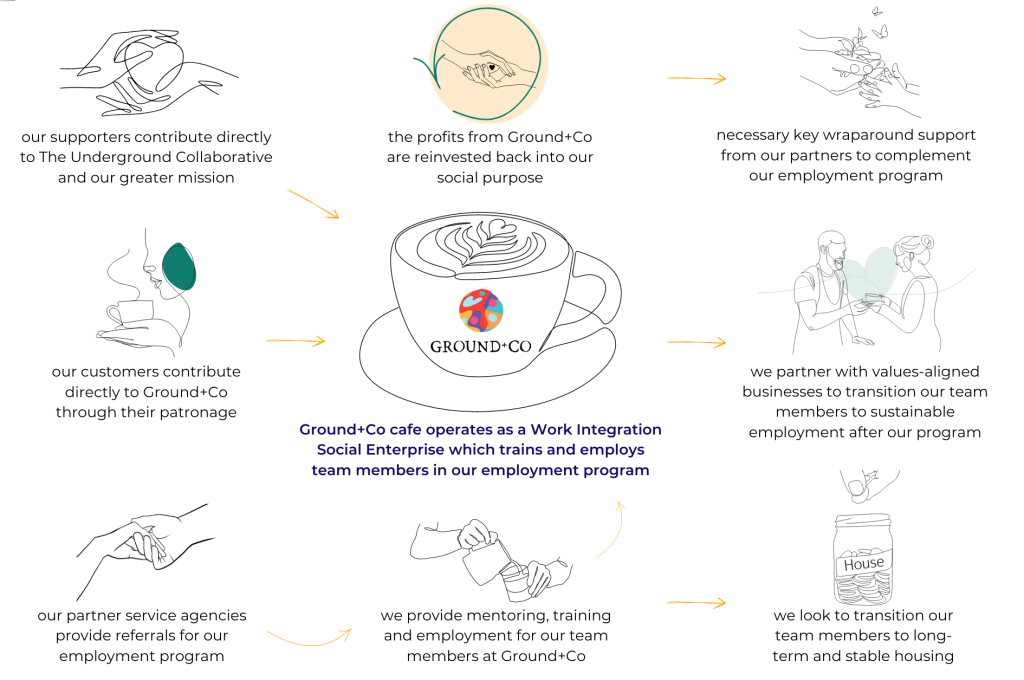 If you are interested in contributing more broadly, there are a number of ways you can do so here. The work we do at Ground+Co might not change the world, but we do hope to change the worlds of the Team Members who are empowered by our initiatives.
With your help, these are the worlds and lives we're changing. Read about them in in our Impact Reports.
If you want to understand and learn more, please head to our dedicated Resources page.
Our Ethical Standards
We know operating a cafe can have negative impacts on the environment and while there is always room for improvement, here are some of the things we do at Ground+Co to reduce our environmental impacts:
None of our coffee grounds go into landfill – one of our amazing community members picks it up and pops it all into his garden!
We always donate any leftover food; where this isn't hygienically possible, we make every effort to compost any food waste
We store everything in containers where possible instead of using plastic wrap
All drink bottles are recycled at the Containers for Change depot
We reuse items where possible as our first option before we discard / purchase new
We source our food and supplies locally to reduce transport emissions and also, we love to support local!
We know there is more to do and that we can do better, and will continue working hard to nurture nature as much as possible.
WHY WE LOVE THEM
Five Senses' driving purpose is to impact people positively through coffee. They strive to grasp these opportunities that allow them to impact across each set of hands in the journey of specialty coffee; from producers to their own staff, to cafes like Ground+Co, baristas and the loving community that nurtures them.
Bannister Downs Farm is home to more than 3000 Holstein Friesian and Jersey cows, specifically bred and raised to create the premium quality milk we use at the cafe. Because Bannister Downs are passionate about dairy farming, they want to continue to build their legacy of ethical milking, sustainable farming and world class best practice in animal welfare.  That starts with ensuring, as they have for nearly a century, that their cows are never thirsty, hungry or frightened.
Additionally, Bannister Downs Dairy have partnered with Ecolean, who have helped bring something new and eco-friendly to the dairy packaging options. The pouches are made from 35% limestone, which means less plastic content and the lightweight packaging means they take less energy to produce.  
It also retains the greater flavour thanks to the natural composition of the packaging and the design of Ecolean products also ensures minimal food waste. Once empty, the eco-friendly pouches can first be Redcycle ™ recycled, burnt safely or returned to landfill to breakdown. You can learn more about the packaging here.
Ripple Tea are committed to partnering exclusively with growers who care about health from crop to cup, and who work to foster biodiversity on their farms. The result is tea in its truest form – delicately crafted, vibrant and full of naturally-occurring protection for the body.
When you drink a cup of organic Ripple Effect Tea Co. tea you're doing more than nourishing yourself from the inside out you're supporting traditional tea farmers, preserving ancient artisanal traditions and promoting sustainable growing conditions.